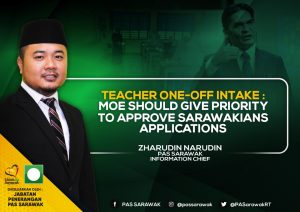 PAS Sarawak welcomes the announcement of the Education Minister regarding the one-off intake of 18,702 teachers in July by giving 100% application approved for Sarawakian so that they can serve for Sarawak.
As one of the states most affected by the shortage of teachers, the move is seen as the best move, and has long been awaited by PAS Sarawak. In May, Sarawak Teachers' Union's President has mentioned his concern over the matter, stating that Sarawak is in need of 3000 teachers. PAS hopes the intake will fill the void face by some Sarawak schools at the moment.
In the case of Sarawak, PAS feels that priority should be given to Sarawakian graduates to serve in Sarawak. This is highly relevant as the need for locals who would be staying in the Sarawak education system is vital if we want Sarawak education to progress further. What happen now is, the majority of teachers from the peninsular opt to go back after a period of time leaving a vacuum of experienced teachers. In the long run, it has an impact to schools' performance as many experienced teachers leave.
PAS calls for Sarawak graduates to apply as soon as the intake offer opens 7 July. There are graduates especially from Universiti Pendidikan Sultan Idris who have graduated more than two years but still have not been posted in schools despite already earning their education degrees. PAS believes these education graduates are more than prepared to serve in schools. Furthermore, they already posess pedagogical knowledge and are already trained for the national curriculum.
In districts with big enrolment of students per school such as in Bintulu, whereby the shortage of teachers per school could reach more than 20, PAS feels the new intake will definitely ease the burden now shoulders by existing teachers, having to do extra work all this while to fill in the empty gap. We are afraid if the intake is not done soon enough some teachers will eventually experience burnout.
For Sarawak education, PAS feels the news has also given new hope to bridge the gap between students in cities and remote areas. All this while, the shortage of teachers does have an impact on students and schools' performance.
Congratulations to the Ministry of Education on this decision. For Sarawak, may this end the endless wait to finally have enough teachers in all schools.
Zharudin Narudin
PAS Sarawak Information Chief